"Do not worry
about your life, what you will eat or drink;
or
about your body, what you will wear.
Is not life more important than food, and
the body more important than clothes?"
(Matthew 6:25)
A mostly-paraphrased section from
Oswald Chambers
: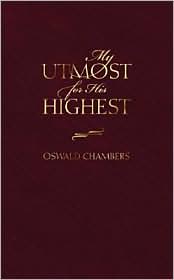 What we call "common sense," Jesus may call unfaithfulness. The Holy Spirit nudges as we go through life --
Where does God fit into this relationship? Into this holiday plan? Into these other details?
-- and he does this persistently until He becomes our first consideration. Until we reach that point, there is confusion.
"Do not worry..." Basic provision isn't your problem to worry about. In fact, to take on such worries shows that you don't trust God to take care of the practical details of your life. Do you remember what Jesus said would choke the word he puts in? Not the devil, but the cares of this world, the little worries. [See Matthew 13.] Faithlessness begins by deciding
I will not trust where I cannot see
, and the only cure is obedience to the Spirit.
Jesus invites us into a life of joyful abandonment.